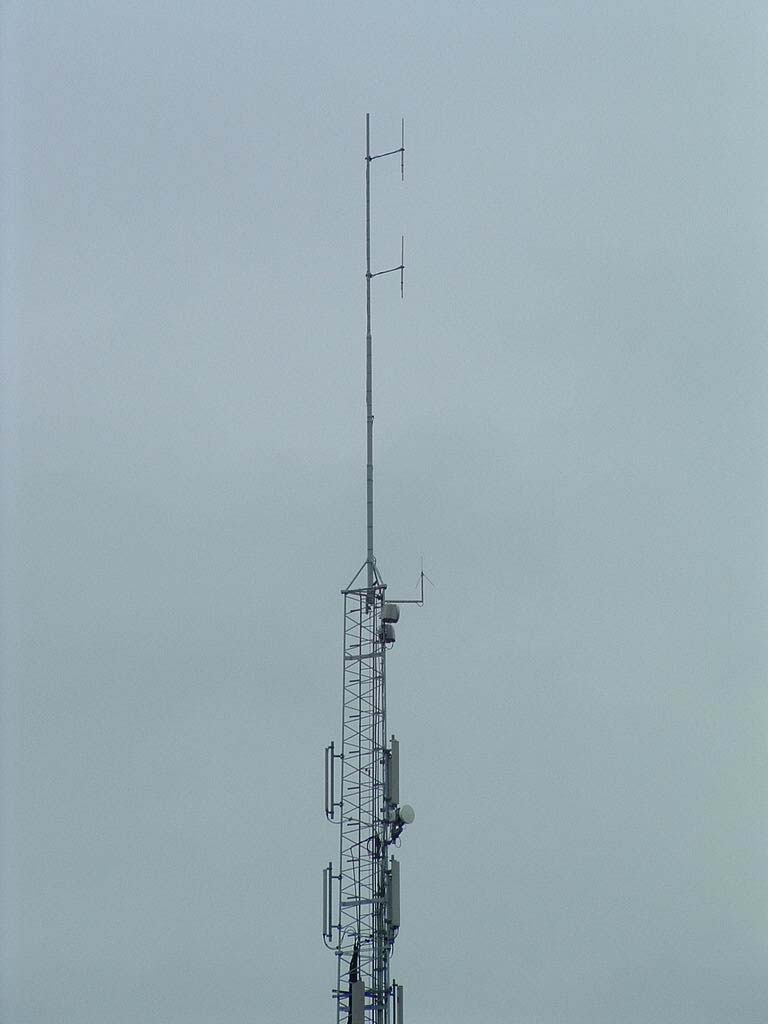 Two stacked verticals 6 DB gain
Very welcome on my Radio Page !
Very Welome on our proud of history and future ! I'll give you a lot of information about our radiostation. It starts twentyseven years ago when i was fifteen years old. "Music was my first love" of course, and i wanted to try to give my music a much bigger public. But how ? I knew a way to realize it, but how could i fix it. On that moment i thought, i know nothing about transmittors and antennas but i bought a transmitter for 88-108 MHZ and problem one was borned. how do i get it on a free frequency, nobody could help me at that time, so then i got in the transmitter to try it by myselve, what i never forget. it costs many blood, sweath and tears to fix it. and the big suprice for me after to study it on time before i blow up my dearest thing i ever had, it worked on my frequency that i would. Wow, a great feeling i got. i add my swr meter between the transmitter and the five element antenna. i said a few words what i don't want to repeat again. my antenna needs a balun to get a good swr, for the info to visitors, it means that i had to tune my antenna for my frequency i wanted to use. "after a lot of baluns" it works great, so it was the highest time to put my complete audio in the little studio i made before, it looks great ! now the time was there to get the music on the radio, i has to listen to 104.1 MHZ but i did'nt hear my music. i heard a lot of interference on the place were i wanted to here my music. then i found the problem. after a lot of figting with cables from all things on the big table i found the problem. so i could fix it. and the terrible noise on my radio was gone. sweating and nervuse i started my music on the mixtable and it was going very dark outside and very cold, it took four hours to start my new "hobby" on the same time i was asking by myselve, was this what i wanted ? very tired i started my music and it works perfect, i was very tired but my happyness and proud gives a much bigger place in my mind. i fixed my biggest wish ! my own music on the radio ! but i had no name, and after a very short time i was searching a tape with jingles and voiceovers from an offshore big radiostation that was transmitting on shortwave, it sounds greatfull A BRAND NEW STATION WAS BORNED !!!!!!! with the stationname Mi Amigo, the same name as the station who was entered on the Northsee, a big ship outside The Netherlands territorials. and we could recieve it in a few countries in Europe. At that time borned "The never ending story" i did'nt know at that time as little boy that it would be a big part of my life. it was illegal but it feld not on that way. a lot of people knows my frequency very fast. at that time there were no commercial stations like now. so if i wanted a big part people on the radio, i made the choice to start my program on the Saturday evening from 8 PM - Midnight but how i could know where the people came from who were listening ? That was very easy, use our phonenumber i thougt. But i had to ask my parents for that. and i needed somebody who took the phone when it rings. it was impossible to do two things at the same time. but i found people to take the phone. My parents ! So the show could go on ! a lot of people gives a report, and asked at the same time the music from their favorite artists. i needed also all the music from my parents. So i was completely ready to make a beautifull program, it gives me the best feeling and proud i ever had. i was a young boy, fifteen years old. But nothing in my life was more interresting as my radiostation. i got visite from listeners and got things to smoke, to eat and to drink in my little studio as thanks for the music. that was the year 1977. a year that started the biggest favor for the rest of my life.
The years were going fast, even our "How to build our needed stuff"
In the past years there's an other way to make radio, the new way of the Dutch gouverment is straight against my mind. To start a radiostation you have to pay thousends of euro's to get a licence, and it's the biggest mistake ever. the radio is gonna be crazy from all commercial stations, and about 400 radiostations who were the first like me, have to leave the radio. on this moment radio is not radio anymore. it's only one big "Commercial Factory" good for the gouverment, very bad for our listeners from before. Even famous Dutch artists have no place anymore in our country. we have the choice, buy a licence to get your frequency on the radio. if not we lose all our stuff what we get. and have to pay 1100 euro. the hunting of this year 2004 on stations like me costs allready 400 stations all their radiostuff they got, and have to pay big bills to the Dutch gouverment. on this way they can put much more commercial stations on the radio, the quality is'nt importent anymore. only the money. we have our Broadcasting Public Radio and the Big Commercial stations and every Province has his own radiostation. then we get maby ten Local Commercial stations in every Province. Good for the gouverment, bad for our Dutch artists people, and for us. if we put on our radio it's gonna be crazy from all stations. Like i said it's the biggest mistake ever with no way back for them, but even for us. we were on the radio and the proud from our listeners and us is completely destroyd. But no worry even it's a big risk, we go on with 96% per hour real music, and the 4% that we need in a hour is for our own jingles and voiceovers from our stationname. Like Freddy Mercury said, "The show must go on" so we'll do. for our own people. with plesure from our sides. If i can help our Dutch artists i'll do everything i can, It never chainched in those years. and thinks on one special artist and easy to rate ! John Miles with his song "Music was my first love"